updated 08 december/ 01

foundation for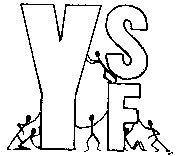 youth support
---
Mr. Terry Goodwin, Chair, PO Box 1695
Lunenburg, Nova Scotia B0J 2C0 Canada
Phone: 902-634-3881 FAX : 902-634-7169
youth support program overview
the community mentorship initiative
western region health board's addiction services
coming soon - ysf manual in downloadable pdf format

The foundation for youth support of Lunenburg and Queens County of Nova Scotia is an incorporated charitable organization under the laws of Nova Scotia.
it's purpose is to:
Raise funds for the activities of the youth support program

Provide transportation for program events.

Fund recreational and life skills programs.
Provide for the special needs of adolescents.

Provide program volunteers.
Provide funds for advocacy.
Support comunity-based drug awareness programs.
YS was founded 14 years ago to meet the needs of 4 local adolescents. In 1998, 234 youths were seen.

the ys program
The youth support program is designed to serve adolescents impacted by substance misuse in the Western Region of Nova Scotia. The program is delivered in the school setting and for those out of school, in the home community.

the goal is recovery from substance misuse and related behavior, in an environment which promotes renewal and healing. The program deals with the whole person rather than with a 'bad habit'. All segments of the adolescent's life are impacted. Recovery is seen as a continuing process, not an event.

program components:
Weekly counselling sessions in the school setting or home community
Weekly recovery meetings.
Peer counselling sessions.
Development of recreational and life skills.
Training for Peer Counsellors. (Seniors Program)
Inpatient detoxification
Public awareness programs presented by adolescents
Peer awareness/education programs within the school settings
Support for parents and adolescents misusing substances
Constructive community involvement
(Integration into the community in a substance free manner)
Access to professionals in related fields where necessary

how referrals are made
youth support is primarily a school based program and referrals can be made through any school. Contact may be made by the adolescent,parent,guardian, friend,legal system or any person or agency involved. Any young person between the ages of 13 and 19 who shows signs of substance misuse or who is affected by it in the family is eligible.

coming up......
caroling for a cause 2001
On Thursday, December 20th, Youth Support will be hosting Caroling for a Cause. This year, we will be going door-to-door in Lunenburg collecting non-perishable food items for the Food Bank and money for the IWK Health Centre. Volunteers are asked to meet at the Lunenburg bandstand on Cumberland Street at 6:30pm. Food & Refreshments to follow later at the White House at Fishermen's Memorial Hosspital. Groups participating this year along with Youth Support will be
Teens enhancing Life in Lunenburg

Katimavik

Buccaneer Bay / Heritage House Outreach Centre

the Rotary Club of Lunenburg


december 1-3, 2002 mumbai, india

1996 ns student drug use survey
1998 ns student drug use survey